What is the Best Diesel Injector Cleaner?
What makes Cost Effective Maintenance's diesel injector cleaner—CRD Fuel Enhancer—the best diesel injector cleaner in Australia?
Laboratory testing combined with extensive field testing confirms outstanding results on diesel fuel injectors. Even vehicles showing signs of injector wear or out-of-spec readings have returned positive results, while using CRD Fuel Enhancer.
CRD Fuel Enhancer is the number 1 diesel injector cleaner, and there are several reasons for this…
Highly concentrated injector cleaner
This highly concentrated cleaning formula not only disperses heavy deposits that accumulate throughout the fuel system, pump, and injectors. It also contains a specifically formulated lubricant designed to improve diesel quality and maintain injector spray patterns to within factory specification.
CRD Fuel Enhancer is Australia's number 1 diesel injector cleaner. It's the go-to additive when you need to get results.
Cleans and maintains dirty fuel injectors.
Improves spray patterns on worn injectors.
Does not void new vehicle warranty.
Maintains factory settings on new injectors.
Diesel particulate filter compatible.
Restores fuel economy.
This highly concentrated injector cleaner is perfect for restoring "out-of-spec" injectors, and can be used regularly when refuelling to help protect your vehicles fuel injector system.
CRD Fuel Enhancer will restore injectors and avoid common rail problems. Satisfaction Guaranteed. Simply add CRD Fuel Enhancer to your diesel and common rail injector problems are solved.
Testing completed on the best diesel injector cleaner
CRD Fuel Enhancer is Australia's number 1 injector cleaner because of the regular testing it is put through.
It is compatible with all new technology diesel engines
Does not alter Australian fuel standards
Produced positive results in Government tested DT80 test facility
Improves poor quality diesel lubricity standards (Hasting Deering lab tested)
Demonstrated benefits in Independent "before and after" injector testing
Does not block or harm DPF Filters
Is able to be used in non-common rail engines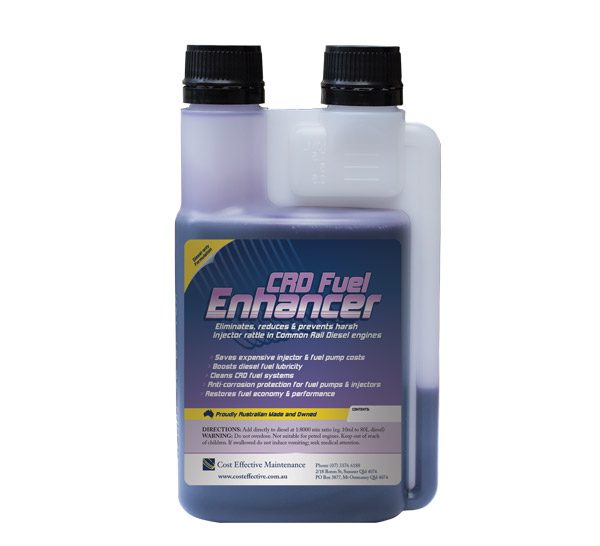 If a product hasn't been tested then why use it ?
If a fuel additive hasn't been tested and if you don't know where it's made or how it works…. don't use it! It could end up costing you thousands in repairs and replacement injectors.
For more information about Australia's best diesel injector cleaner give the team at Cost Effective Maintenance a call on 07 3376 6188