Performance and Fuel Economy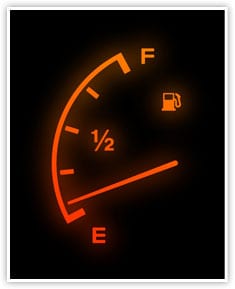 FTC Decarbonizer makes a measurable difference to increase power, torque and fuel economy…and has been observed on dozens of carefully controlled laboratory dynomometer studies.
Maximizing performance and economy without any mechanical modification can also be achieved by reducing frictional horsepower losses through engines, transmissions, differentials/final drives, etc. Up to 25% of an engines horsepower is lost to internal friction. This means that a 225HP engine actually develops 300HP in the combustion chamber, but loses 75HP before it reaches the flywheel.
A further 10% can be lost through the drive train, depending on how many components are involved. Clearly, that friction cannot be reduced to zero, but there is certainly room for improvement.
AW10 Antiwear use in engines alone has demonstrated a 6% increase in power in a Commodore, and 13% in an old Navara diesel on the dynamometer. Added to drive line components, it releases additional usable horsepower. Several automotive dealers and many mechanics now deliver the And the word of mouth from delighted customers results in more business, with zero advertizing costs.
Fuel system deposits accumulate fairly quickly, and small amounts cause deterioration in economy and performance. Cleanpower restores pristine cleanliness to fuel system components to restore and optimize fuel efficiency.
FTC Decarbonizer is used widely in the mining, diesel power generation and road transport industries to produce fuel efficiency gains, even in brand new engines.
Testimonials
Toyota Hilux 2008 (Common Rail Diesel).  Knight's Toyota (Leongatha, VIC) performed a dynomometer test on this Hilux just before servicing, and again after flushing the engine with Flushing Oil Concentrate, and boosting the oil's lubricity with AW10 Antiwear. Rear wheel horsepower increased from 97.6kW to 105.4kW… an increase of 8%, by simply reducing internal engine friction!!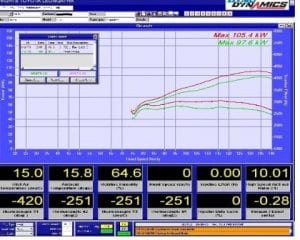 Rigid Tip Truck with 6V92 Detroit Diesel. (K. Wright NSW). The truck does all on site work, and had coked up badly from it. As a result, fuel consumption was down to 1.69km/L. Power and economy was restored over the next 3 tanks of treated fuel…1.96km/L, then 2.12km/L and then 2.45km/L. Other trucks on site used to pass me, but now I leave them for dead!
1992 Mazda T3500 bus converted to a Motor home. (John Hoylake).  At 230,000 kms on the original engine, John complained to CEM that the engine puffs blue smoke on acceleration. He was advised to use three simple do-it-yourself products to clean up the dirty oil system, fuel system and de-stress everything, including diff and gearbox by beefing up the oil's load carrying ability. John wrote to CEM to report how he went… 
"Hi Brid, I had to write and tell you that I completed two oil changes and got a lot of sludge out both times, the second time being the most. The only problem encountered was putting too much oil back in, as I could not see the new oil on the dipstick. That being fixed now, I await to see what my run to Tasmania will do engine wise. It's all running sweet now. I still get some blue smoke on start up, but I think that's because of not being used much at the moment.  Very happy so far and I know the old Mazda is. Thanks again, John."
And 2 months later…
"We just got back from a month traveling to, from and around Tasmania. I must tell you how pleased I was at the performance of the motor. First thing was the wife noticed how quiet the bus was, and that, in itself, is testament to something.
As we progressed into our journey to Melbourne (1682kms), the engine was going from strength to strength. We went up Cunningham's Gap like never before. On the flat country of the Newell Highway we were cruising on the speed limit of 110kph. In fact, I had to hold it back from 120…darned amazing, since before the treatment we were flat out at 98kph.
Tasmania was another test with narrow steep forestry tracks and with the motor being run at slower RPMs, there was still no shuddering or smoke. It goes without saying that I'm very pleased with the result of using Flushing Oil Concentrate, Cleanpower fuel treatment, & AW10 Antiwear, and I will continue to use these, in future ventures. Thanks best regards John (Mazda camper owner with 7500km of "new life running")"
Ford Courier 4×4 1999 model, 2.5L Turbo Diesel 190,000 km. (Brad Buckland VIC). I used Flushing Oil Conc. & Cleanpower value pack. These are my results…
Engine revs went from 1500 to 2000 RPM soon after starting the flush
Runs quieter and smoother
Starts easier with no black cloud of smoke
More power and torque
Fuel economy improved from 7 to 8.5 km/L
I then added the AW10 ANTIWEAR throughout the vehicle, and these are my results…
Starts even easier
Fuel economyimproved further from 8.5 to 9.8 km/L
Engine runs more quietly and smoothly still
Increased power and torque, with more response down low, and holding higher gears travelling up hills
Smoother gear shifts, esp from 2nd to 3rd
Smoother gear shifts in the transfer case
All this, after spending $2,500 on checking and recalibrating fuel pump, replacing injectors and glow plugs with little or no results. After putting the Oil Flush through once and using the Antiwear together with Cleanpower, the car has never run this good since new. I highly recommend these products. (Brad Buckland, VIC)
Free Gift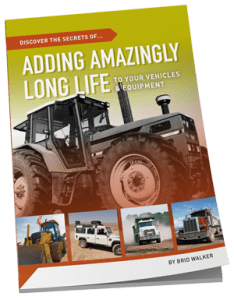 Subscribe to our newsletter and receive our new 76pp E-book:
"Adding Amazingly Long Life to YOUR Vehicles and Equipment"
in pdf format FREE!
If you have already subscribed to our newsletter, resubmitting will update your details and you will receive an updated version of the E-Book