How to solve Blowby, Smoke & Oil Consumption Problems
"It was embarrassing… my boat used to completely smoke out the marina! After only one day on FTC Decarbonizer, the smoke was all but gone!" Bertram Sportsfisher with twin BMW diesels.
There are many causes of smoke, blowby and oil consumption problems. The GREAT news is that most of them are very easy to fix AND it's low cost too! Here are the main fixes for reducing smoke, blowby and oil consumption.
Just click on the product to see how it works.

Especially for engines that don't work hard enough for long enough (eg excess idling, light loads, short runs and cool running). Most engines progressively build carbon deposits, and particularly if they have encountered problems or have been out of tune. FTC (in the fuel) improves blowby control, emissions, oil control and compression by removing cylinder glaze and top ring carbon. It removes carbon from combustion and exhaust spaces, letting the engine breathe better. It removes carbon from turbochargers, allowing full turbo speed and air delivery. FTC is particularly suitable for boats, underground mining equipment, crane trucks, street sweepers, concrete trucks, site tippers, loaders, excavators, etc. FTC also produces a faster and more efficient (cleaner) burn.

This thoroughly cleans the entire fuel system, correcting faulty spray patterns, and providing finer atomization of the fuel mist to provide a cleaner burn, with less smoke.

FOC frees up sticking piston rings, allowing them to move freely and seat cleanly against the ring groove and bore. This maximizes compression and oil control. Better compression also means reduced blowby and less smoke. (Especially recommended for small pre-combustion diesels eg 4×4's, light commercials, and any diesel that blackens the oil very quickly.) Underground mining equipment often require regular use to maintain full compression and proper emission control.
Testimonials

Cummins 444 in Kenworth T650.

Maslin Bros Pty Ltd used this Kenworth daily on a contract with a Mt Isa minesite. The truck lost power and started smoking so badly, that it was not allowed back on site. The local Cummins dealer told Hugh Maslin that there was way too much blowby, and it would need rebuilding at $32,000!!! Instead, Hugh tried FTC Decarbonizer and Flushing Oil Concentrate. He was absolutely amazed at how much rubbish came out on the flush. After the treatments, the Kenworth went back to work, for the remaining 18 months of the contract…with no smoke and no oil usage!! Two years later, and the Kenworth shows no signs of deterioration. Hugh had saved the business a $32,000 rebuild,  didn't lose any downtime, and kept his client happy.

Boat Owner with twin 8V53 Detroit Diesels

The owner of a 53ft boat was faced with a $40,000 cost to rebuild his twin 8V53 Detroit Diesels. At only 5000hrs, they smoked so badly, you could not see behind the boat. After using FTC Decarbonizer, the massive amounts of blue smoke had disappeared! The engine idles much better with noticeably more power. They'd gained 200 RPM at full throttle. An investment of only $190 for a saving of $40,000…without even touching a spanner!
Free Gift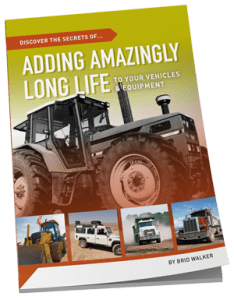 Subscribe to our newsletter and receive our new 76pp E-book:
"Adding Amazingly Long Life to YOUR Vehicles and Equipment"
in pdf format FREE!
If you have already subscribed to our newsletter, resubmitting will update your details and you will receive an updated version of the E-Book