CEM products boost local mechanic's business
4WD mechanic John Hams, from Off Road Autos (Mackay, Qld) facebooked us to tell us how he's going since starting to use CEM products 12 months ago. Here's a couple of the things he had to say about our products:
---
"The entire range of CEM products have really impressed me since I started using them almost 12 months ago. I have also had good feedback from customers who have purchased CEM products from me."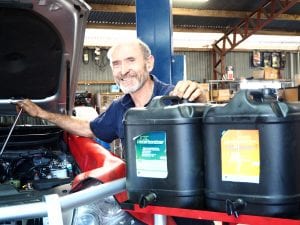 A trucking company with a 60 series Detroit 4 stroke Diesel Engine came to me. Its engine oil was pouring into the air intake via the breather, oil leaking everywhere and carried a 20 litre drum of oil around for top ups. After using just 5 litres of FTC Decarbonizer continuously, the engine has been deglazed to the point that the oil consumption and leaks via oil entering the breather have virtually ceased. Having previously failed its yearly inspection due to this fault, the company has now saved itself a rebuild. AW10 Antiwear has many advantages from my experience. It reduces friction in hard working engines such as TDI engines with timing chains. It reduces the friction of the camshafts etc thus reducing the load on timing chains. I use it in all Navara 2.5L engines just for this purpose. I added AW10 to a customer's Navara 2.5L CRD engine, gearbox, transfer case and rear differential and reduced the fuel consumption of the vehicle by 6%! I also use it in hard working gearboxes. This enables me to use a higher viscosity lubricant and retain smooth gearshift operation. One vehicle that really needs this is a Toyota Landcruiser V8 equipped with a power chip. These vehicles can drive at 50 kph in 5th gear and pull away effortlessly (and erroneously by the driver). Imagine the load on the front counter shaft bearing, especially with a tonne or two in tow!
… To read John's full post, simply visit our Facebook page and check out the Visitors Post section.
---
Off Road Autos (see map) retail the full range of CEM products, so make sure you drop in or call John on 0419 029 122.
For mechanics out there wanting to find out how to incorporate CEM products into standard servicing, call Brid or Jimmy on +61 (7) 3766 6188.