My vehicle has started overheating
Over the years Cost Effective Maintenance have heard from hundreds of frustrated vehicle when their vehicle have started overheating. Owners have spent thousands of dollars on cooling system components and cleaning, yet have not solved their vehicle overheating problems.
It's something we hear all the time… My vehicle has started overheating,  Its running hot, It only started overheating when I'm towing or driving up a hill …. If this is happening to your vehicle our overheating pack will bring your temperatures down.
Overheating Value Pack will help eliminate vehicle overheating problems.
This pack includes 3 easy to use products that will stop your overheating problems.
Engine Heat, why has my vehicle started overheating?
Engine heat is primarily generated from the fuel burn,plus a little from mechanical friction
One-third of the fuel heat goes straight out the exhaust(these are only crude figures).
One-third is used to power the engine
One-third is removed by the coolant, plus a small amount by direct radiation.For example, heat is conducted from the pistons to the rings, then to the cylinder wall, and then to the coolant. It is also conducted from the piston to the oil that is squirted under it, and then to the coolant.
Heat is lost from the coolant to the air, via the radiator
Sometimes the reason a vehicle has started overheating is obvious.
A blown hose
Leaking water pump or failed thermostat
Block radiator, old glycol
Built up oil sludge in the engine
Poor Engine Maintenance
Bear in mind that once the engine overheats, it also stresses and weakens other components, which may then be ready to fail as well! Quite often though, it is not so obvious.
Stopping your vehicle from overheating
There are many reasons why vehicles start overheating and through a very simple process of elimination you can fix the problem quickly and easily .
Flush out the radiator and cooling system 
The cooling system can accumulate rust and mineral scale deposits. Even a tiny coating of mineral scale has a significant effect on reducing cooling efficiency. Another problem occurs when different types of coolant have been used. They form a sludge which prevents proper cooling. Cleaning with RMI-25 Cooling System Treatment is the easiest way to remove mineral scale, rust and sludge. Simply add it to the coolant system and drive normally for a week or two. All deposits end up in the overflow bottle, where they can be removed.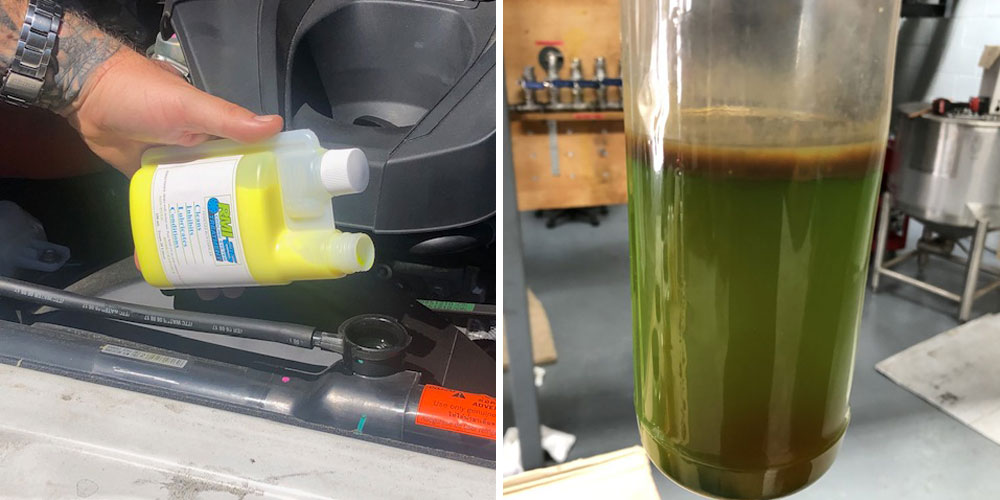 Remove built up engine oil sludge
Pistons are the hottest parts of the engine, and any carbon in the ring grooves will not allow the heat to conduct to the rings, cylinder wall and then the coolant. The fix is to simply change the oil using Flushing Oil Concentrate, and you'll immediately clean up the piston rings and allow good heat transfer.
Oil that gets too dirty with black soot will absorb heat, not readily conduct it away through the oil cooler to the coolant system. Flushing Oil Concentrate fixes this too, as well as removing equally troubling engine oil sludge.
Remove built up Carbon from cylinders and exhaust areas.
Heavy carbon deposits around exhaust valves and ports will allow more heat to build in the engine.This doesn't need a mechanic though. Simply add FTC Decarbonizer to your fuel and drive normally. The carbon simply burns away while you drive, and the engine can "breathe" efficiently again.
For any questions about our overheating pack, contact us on +61 7 3376 6188.