Engine Blowby problems, most don't need a rebuild!
Engine Blowby problems or Cylinder "Blow-by" (excessive crankcase pressure) is a common and worrying problem encountered by most truckies at some stage in their career. Concern is certainly justified, as it typically means an expensive engine rebuild is necessary, and this is usually recommended by mechanics and dealers.
But, according to Brisbane based Cost Effective Maintenance, wear is not the most common cause of blowby. Piston ring deposits, sufficient to cause fouling in the ring groove, and/or cylinder glaze account for approximately 80% of blow-by issues.
"When you're faced with a possible rebuild, you need to ensure that your money is well spent!
Our advice is always to get everything clean first. Then you know where you're at!"
Engine Blowby problems can be rectified without a rebuild
"There's a very simple, low-cost, DIY procedure almost anyone can do that will fix your engine blowby if the engine is fundamentally sound.
Using a combination of our Flushing Oil Concentrate and FTC Decarbonizer, hard-baked on carbon is dissolved, dispersed, and removed from all lubricated parts, as well as combustion and exhaust spaces. Cylinder glaze is safely burnt off!"
"Over a period of 30 years, we've noted that, conservatively, 80% of engines that have undergone this procedure, have recovered good compression control and eliminated their blow-by."
How to reduce engine blowby?
Engine blow-by can be reduced by removing the carbon and hardened oil deposits that are responsible for excessive crankcase pressure.
Step 1. Add FTC Decarbonizer in with the diesel.
FTC will safely burn away all carbon from the combustion area, Deglaze cylinders, de-coke valves, turbos, and DPF filters.
Step 2 Use Flushing Oil Concentrate when completing an oil change.
The flushing oil will dissolve all carbon and heavy oil sludge from the oil rings and all oil-wetted areas.
By cleaning up the carbon and freeing stuck oil rings the crankcase pressure should be greatly reduced assuming excessive ring wear is not the cause of the Blowby.
This Blowby Pack will reduce Blowby Fumes, satisfaction guaranteed.
Simply add FTC Decarbonizer to the fuel, complete an oil change with Flushing Oil Concentrate and the problem is solved.
Engine Blowby Problems, four typical examples to show that many engine don't need rebuilds.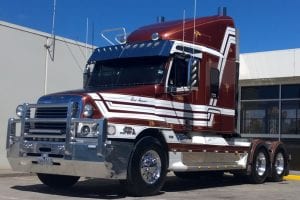 Risley's Bulk Haulage has been using Cost Effective Maintenance products continually since 2008 when they first used the FTC Decarbonizer & Flushing Oil Concentrate to correct a Series 60 Detroit blow-by problem. After catching up with Phil Riseley recently, staff were able to see his immaculate Freightliner. It's been seven years since his initial engine blowby problem, and his Series 60 has now clicked over the 1.5 million km mark.
Then, there's the Maslin Bros Pty Ltd Kenworth T650 with a Cummins 444 used daily on a contract with a Mt Isa mine site. The truck lost power and started smoking so badly, that it was not allowed back on site.
The local Cummins dealer told Hugh Maslin that there was way too much blowby, and it would need rebuilding at $32,000!
Instead, Hugh tried FTC Decarbonizer and Flushing Oil Concentrate. He was absolutely amazed at how much rubbish came out on the flush. After the treatments, the Kenworth went back to work, for the remaining 18 months of the contract, with no smoke and no oil usage.
Two years later, and the Kenworth shows no signs of deterioration. Hugh had saved the business a $32,000 rebuild, didn't lose any downtime, and kept his client happy.
Truck fleet owner, Merv Sweetman had done 500,000km on this engine with no problems, when it suddenly started fuming badly, and started using oil at the rate of six to seven litres in two days. After inspecting the engine, Detroit people concluded that it needed a rebuild at a cost of $14,000.
On advice from Cost Effective Maintenance, he started using FTC Decarbonizer and Flushing Oil Concentrate on a regular basis. Performance, oil control and blowby control quickly returned to normal. At 900,000 km, the engine was still running sweater than ever, and no oil consumption. His Cat engines are also running better, and the oil in them stays very clean right to the change interval.
Another customer has been using the Flushing Oil Concentrate for a fair while now, in older 12L Macks and Series 60 Detroit Diesels, and with great success. These engines had developed a fair bit of blow-by and were using more oil.
They found that using the Flushing Oil Concentrate reduced blow-by and oil use in the older engines. They've even had engines with 2 million kms respond well to the Flushing Oil Concentrate.
For more information on how Fix Engine Blowby give the team at Cost Effective Maintenance a call on 07 3376 6188
Recommended products to fix engine blow by