Provent 200 Filter Real v Fake
How to spot a fake Provent 200 filter.
When it comes time to replace your Provent 200 Filter, be aware of the damage  these non-genuine knock off filters can cause…
As you know, Catch Cans (or oil separators) are designed to filter fine oil droplets or crank case fumes from entering the engine inlet areas. When left unfiltered, these fumes gradually coat the intake area with oil. This coating of oil will start collecting fine carbon particles which over time will create a heavy carbon build up inside your engine.
Fake Provent filters have some obvious faults and sometimes vehicle owners don't even know their filter is non genuine.
Plastic housing is quite soft and bends easily
Filter medium is replaced with a wire mesh
Mann and Hummel branding will be missing
Imperfect tooling marks on the can external
The actual Provent can will gradually warp and the lid will not fit properly
If your replacement filter is made only with "wire mesh" it's definitely a fake. You may as well not have the catch can fitted at all.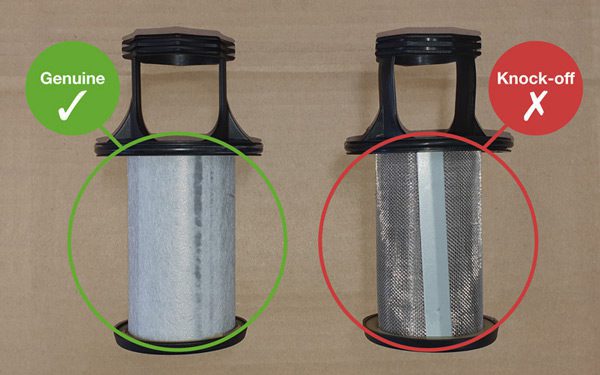 What problems occur when a fake filter is fitted?
When servicing Provent 200 filters, we have seen far too many problems that could potentially lead to major engine failures!
The two main problems with these knock off filters are:
Problem 1
Fake Provent 200 filters will NOT work properly—you may as well not have one fitted at all. The crank case oil vapour is NOT being filtered, and the blowby fumes are still entering the intake system.
Problem 2
If the filter is a material type filter (mesh paper or material / cloth wrapping) the filter will be restricting air flow.
Restricting the air flow can cause over pressurising of the sump.
Puts massive pressure on engine seals and gaskets.
Creates oil leaks, ultimately voiding any vehicle warranty.
At the end of the day, buying your filter from a reputable dealer will ensure your Provent 200 Replacement Filter is a genuine filter and fit for purpose.
For more information on fake provent 200 filters contact the team at Cost Effective Maintenance